Meetup Location
Varies by duration booked
Availability
Full Tunnel Tour M-F 9-4,
1 Tunnel Sat 9-1
Flash Photography
Allowed
About our Tulsa Tunnels Tour
First built in the 1900s, Tulsa's tunnel network expanded, becoming a means of pedestrian transportation during rough weather and for moving securely and quietly between downtown buildings.
But these tunnels, as you'll soon discover, hold far more than just stories of transportation. On your tour, you'll learn some of the city's most enthralling stories and the tunnel's hidden history of intrigue and mystery.
Delve Into the Depths of the City
Delve Into the Depths of the City
On your private professionally-guided tour, you'll delve into the vast network of Tulsa's tunnel system, exploring their history and some of the most captivating stories the city has to offer.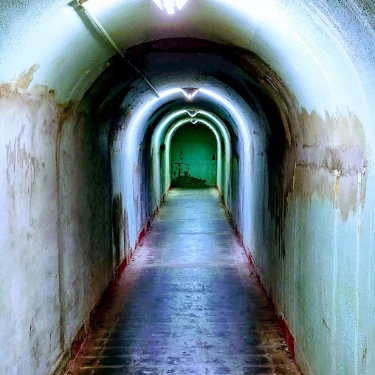 Get a Unique Glimpse of Tulsa's History
More than just tunnels, this labyrinthian network acts as a gateway to the past, offering your group a unique glimpse into the city's more intriguing and mysterious history.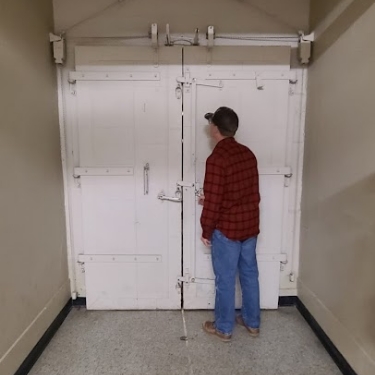 Experience the Artistry Above and Below
In addition to exploring the tunnels, we'll see some of Tulsa's most captivating sculptures, stained-glass, and paintings in the buildings connecting these tunnels — beautiful art deco and gothic designs that showcase the beauty of the 20th century oil boom days.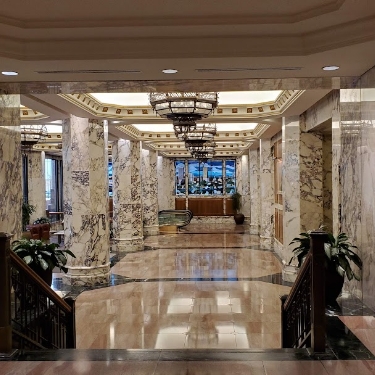 Key Points of Interest on Your Tour of Tulsa's Underground Tunnels
Though every tour can be different depending on your private group's needs or interests, together, we'll discover:
Architecture

Reasons for the tunnels

Surprising history
Stories from Tulsa's days as the oil capital of the world

Hidden secrets
Book a Tour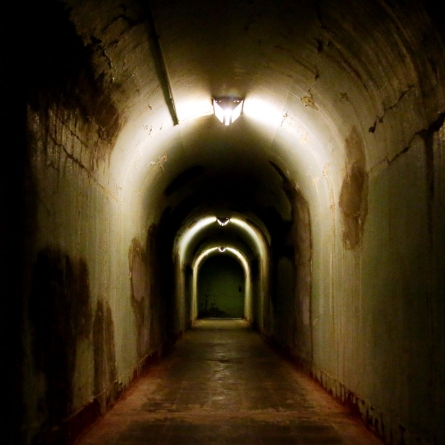 Amy T.
Google Review
What a fantastic experience!! We learned so much and stayed engaged the whole time. Kelly did a wonderful job. My teenage sons enjoyed it as much as I did. I'm looking forward to using them for the church tour and would recommend them for students or out of town guests when you want to show how unique and interesting our city's history is.
Karen L.
Google Review
I had a reunion of my elementary school classmates from all over the country and we took the Art Deco tour of the churches and downtown buildings and everyone agreed it was the best high point of our reunion! Our guide was warm and knowledgeable and funny and fun - and there is so much amazing history in Tulsa for everyone to learn! It was well worth what we paid and I will take more family and friends on the tour in the future!
What Makes Tours of Tulsa the Best?
Most tour companies simply repeat words from scripts, plaques, and share bland information you could have read for yourself.
With Tours of Tulsa, you experience the city and its history authentically, from Tulsans who are passionate stewards of its stories and genuine ambassadors of Tulsa to its visitors.
Read Our Reviews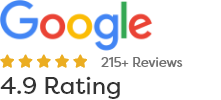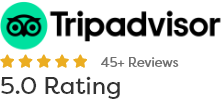 Meet Your Tour Guides
Servicing Tulsa for over 35 years, our tour guides are passionate ambassadors of Tulsa and its history who create engaging and unforgettable experiences for your group.
Learn About Us
Frequently Asked Questions
How big can our tour group be?
We can accommodate between 1 to 10 people of all ages on our tunnel tour.
How far of a distance will our tour group walk?
Just under 8 blocks of walking on the 1-hour tour — about 3 inside and about 4 outside.
What types of payment are accepted?
We accept cash, checks, and credit.
Are private tours of Tulsa's tunnels available?
Yes! All of our tours are private, professionally-guided tours. If your group requires special accommodations, please don't hesitate to contact us.
Other tours you might like