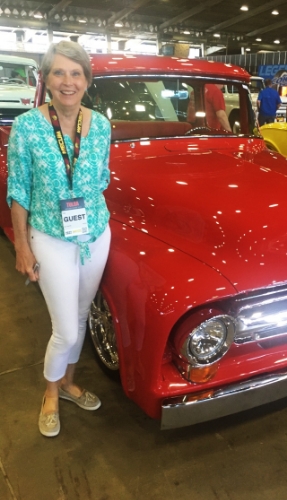 About Mary
When I was teaching school, we had a unit on Oklahoma history and always wrapped it up with a look at Tulsa history. That is when I met Kelly. For 13 years, I took her tour and fell in love with the history of this city. I am not a native Oklahoman, but my husband is, and I love hearing about his family's history.
When I retired, it seemed only natural to ask Tours of Tulsa for a job. It is the best part-time job I have ever had.
History is a story. It can be good, bad, sad, or happy. If I can present our tour as a fascinating story that people want to hear, it's my hope that they, too, will fall in love with Tulsa. I love meeting new people. Giving tours has allowed me to meet hundreds of fascinating people from all over the world.
My husband and I enjoy camping and have traveled all over the United States in our 21-foot travel trailer. As we travel, I love researching small towns we travel through and taking my husband on mini-tours as if I lived there. When we're at home, I enjoy sewing and cross-stitching and long walks. I like watching NASCAR, football, and baseball. We have three children and four grandchildren that fill our lives with joy.
Meet The Other Tour Guides
Servicing Tulsa for over 35 years, our tour guides are passionate ambassadors of Tulsa and its history who create engaging and unforgettable experiences for your group.